Rural Housing Odisha
RH Odisha/ BPGY Beneficiary List

What is rural housing Odisha?
The Government of Odisha commits to provide pucca houses to all the houseless and those staying in Kutcha houses in rural areas. In this endeavor, the following Schemes are implemented by Panchayati Raj & Drinking Water Department.
Pradhan Mantri Awaas Yojana (Grameen)

Biju Pucca Ghar Yojana

Pucca Ghar Yojana (Mining)

Nirman Shramik Pucca Ghar Yojana
What is the BPGY scheme?
The government of Odisha is committed to convert all the Kutcha houses to pucca houses by the year 2079. State Government with a view to achieving this objective launched "Biju Pucca Ghar. Yojana (BPGY)" in 2014.
How to check RH Odisha beneficiary list 2021?
To check if you are eligible to the rh Odisha scheme or not, please follow the given steps below.
2. Now click on

(ଯୋଗ୍ୟତା କାର୍ଡଧାରୀ)
3. Now select your District, Block, Panchayat Office, Village and click on search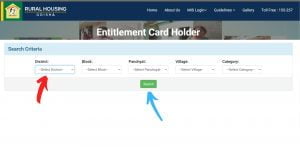 4. Here comes your beneficiary list according to the selected area
Thank You For Visiting