MCA Syllabus For Semester & Previous Year Questions 
MCA 2021 Syllabus | MCA Syllabus For BPUT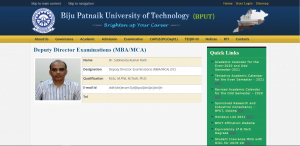 BPUT MCA Syllabus 2021 | MCA Previous Year Question Paper
What is MCA Course? | MCA Syllabus For All Semester 2021
Masters of Computer Applications is the full form of MCA. It is a professional postgraduate program for individuals looking to make a career in IT and computer software development. The curriculum is intended to provide theoretical as well as practical information. The course combines the development of a strong understanding of programming languages with the creation of computer applications. The Information Technology sector is growing, and the course seeks to close the workforce gap that the industry is experiencing. The program opens doors both inside and outside of India, with students from many fields eager to participate.
Eligibility For MCA | MCA Previous Year Question Paper
Candidates must have passed the BCA/ Bachelor Degree in Computer Science Engineering or equivalent degree or passed B.Sc./ B.Com./ B.A. with 50-60% marks.

Candidates must also have Mathematics at 10+2 level or in any year of graduation and obtain at least 55% marks in the 12th standard
MCA Course Duration | MCA Syllabus 2021
Previously, the course was three years long; however, the duration of the course was decreased by one year during the University Grant Commission's 545th Meeting in December 2019. MCA is currently a two-year curriculum divided into two semesters.
MCA Syllabus 2021 | MCA Previous Year Question Paper
Semester-1
THEORY & PRACTICAL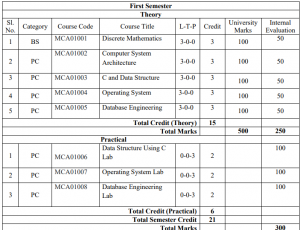 Semester-2
THEORY & PRACTICAL 
BPUT MCA Syllabus 2021 | MCA Previous Year Question Paper
FAQs. About MCA Course:-
1. Is MCA 2 years course now?
Ans. The Master of Computer Application (MCA) course will now be a two-year course. It was decided to reduce the course duration by one year, in the 545th Meeting of the University Grant Commission (UGC) held in December 2019.
2. Is MCA hard to study?
Ans. No education is easy or hard, it depends on your level of interest, capability, and strengths. To be eligible to pursue MCA, one should graduate and should have maths as a subject in +2. To be eligible to pursue MCA, one should graduate and should have maths as a subject in +2.
3. Is MCA better than btech?
Ans. But yes, MCA is better than B. Tech is essentially a post-graduate degree course as compared to B. Tech which provides you only a graduation certificate. So, in short, job prospects with MCA are better than compared to B.
4. Can I do MCA after the 12th?
Ans. The answer is NO! First, MCA is a PG course. To pursue this course, one must have a Bachelor's Degree from a Recognized University. It is not possible to pursue a Master's level course right after the 12th, without having a Bachelor's Degree Certificate!
5. Does MCA have scope in the future?
Ans. There are a lot of careers after MCA that one can take on. These can be Software development, Trainee programming, Web designing, and System management. In the course of masters, a lot of industrial projects are also given to students to explore their interests.
MCA Previous Year Question Paper
Career Portal Odisha For More Details Please Visit the Official Website
| Thank You and Visit Again |